Military bases operate like their own towns and cities, and should be considered partners in smart city initiatives, according to Richard Kidd, deputy assistant secretary of the Army, who spoke at the Global City Teams Challenge Expo on Aug. 28.
"The Army runs 156 towns across America and every day more than 2 million people go to work inside those towns and cities that are Army installations," said Kidd. "We are facing many of the challenges that you are facing, and fortunately we probably have a city or town or manufacturing facility that's close to each of your towns or your industries that are open for collaboration."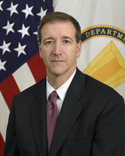 According to Kidd, the rise of technology has changed the role of Army installations–bases, camps, stations–meaning that more soldiers are working on-site through drones and supercomputers, while fewer move overseas to fight and train.
"We're starting to develop a model for the future of Army installation, and this is why we're here today," said Kidd. "Because, simply put, we need a secure data architecture backbone that will allow us to connect and protect all of the systems on our Army installations that we need."
Kidd said that the Army is highly concerned with the security of the Internet of Things, sensors, and other smart tools that go along with creating a smart city.
"How do we, the Army, and frankly all of us, take advantage of this technology without exposing ourselves to undue risk?" said Kidd. "The grids, the systems that we use to communicate, data storage, social media, all of these are opportunities and advantages for society, for the Army, but they are also vectors which will be attacked. And we know adversaries around the world have the ability to attack not just the Army but the Internet of Things and the communications and control mechanisms that make our cities and our communities better and more efficient."
For example, Kidd described a recent problem in which 20 commercial drones flew over Arlington National Cemetery, which is controlled by the military, after it was rumored that people would show up to protest at the Confederate monuments there.
"This is commercial technology with tremendous benefits, but also poses potential risks," said Kidd. "My purpose is to invite all of you to share future collaboration, interaction, and opportunities with the United States Army, and I also want to expose you to some different thoughts, or, more apt, risks associated with much of the technology we're going to talk about."
Read More About