Government and industry officials weighed in on the final day of Google Cloud's Public Sector Summit Dec. 9 with both strategic advice and practical experience for technology deployments to deal with dislocations caused by the coronavirus pandemic, and to continue improving citizen service beyond the current public health crisis.
Mission Drives Agenda
Current and former Federal government officials who have been instrumental in crafting technology solutions that quickly became lifelines to the nation during the coronavirus pandemic emphasized at the Google Cloud Public Sector Summit the importance of mission as the driving force behind technology development.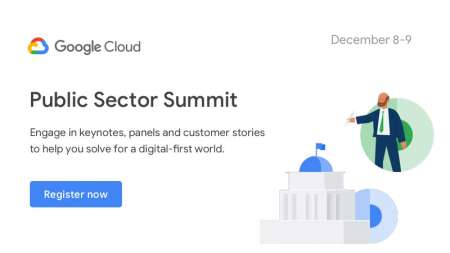 Former Federal CIO Suzette Kent, who led government technology pandemic-response efforts before stepping down in July, advised to "start with the mission, and understand exactly what is the outcome we are trying to achieve… That helps us to evaluate what we should be doing."
Asked how to cut through the "noise" that can be generated by the ever-widening variety of available technologies, she acknowledged, "there is a lot of noise, but that's because there is a lot of good technology." But a mission-first focus, she said, helps to make sure "we are not aligning for just some cool things, but for the things that we really want to deliver … the things that align with citizen service."
"As we become more outcome-focused … that's how we cut through the noise and make the right choices," Kent said.
Dominic Sale, Assistant Commissioner, Technology Transformation Services (TTS) at the General Services Administration (GSA), who helps numerous Federal agencies advance their technology plans added, "It's all about mission … and designing around humans."
"People try to sell us a lot of stuff," Sale said, but it's important that government stick closely to mission to arrive at solutions that will help to best address pressing needs. "Often, government takes on more than it can chew … so we have to be careful to take on the technology that we can use."
Asked about government's evaluation of return on investment (ROI) in technology, Kent said ROI was important to consider, but that it needs to be viewed in a context greater than a financial equation.
"The concept of ROI is something we need to keep pushing on," she said. But she explained that government needs to factor in not just cost of ownership, but also "can the workforce handle this, how can we support this, and what about the vendors … are they going to continue to invest in this and in features and functionality?"
"Are we future-proofing" when the government commits to technology, she asked, along with "how many things can we do at once, can we absorb those, and do those well."
AI-Driven Cancer Diagnosis
On the healthcare front, Dr. Hassan Tetteh, Health Mission Chief at the Defense Department's (DoD) Joint Artificial Intelligence Center (JAIC), discussed his organization's focus on using AI for numerous applications to improve and sustain warfighter health, which he called "critical to our nation's defense."
JAIC provides a dedicated domain and compute power to the health mission effort, which Dr. Tetteh said is leveraged by "our unique, incredibly voluminous, and diverse data set" offered by the electronic health records (EHR) of service members. Those records, he said, make up a "rich source" of necessary data for AI and machine learning efforts to help improve warfighter readiness.
DoD – which spends nearly $50 billion per year on healthcare, and about $1.7 billion on cancer diagnosis and treatment – is already putting points on the board through a years-long partnership between Google and the U.S. Navy to use AI to help physicians perform faster and more accurate cancer diagnoses.
Dr. Craig Mermel, Staff Research Scientist at Google, explained that the use of AI has allowed the technology to achieve "really expert-level accuracy" in discovering very small amounts of cancer on pathology slides in order to not only detect cancer, but to see if the disease is spreading.
Applications of the technology, Dr. Mermel said, have been particularly valuable in evaluating cases of prostate cancer, and helping to determine subsequent treatment regimens. "We found that if we give pathologists access to our output model," then those medical professionals can achieve higher rates of accuracy, and save time in the process, he said. "We think this is an extremely promising result," the doctor said, adding, "Our real goal is not to replace what pathologists can do, but to augment it."
Digitizing at USCIS
Robert Brown, Chief Technology Officer at the Department of Homeland Security's (DHS) U.S. Citizenship and Immigration Services (USCIS) organization, said during a panel discussion that the agency is in the process of "digitizing a lot of our paperwork" after being stymied by "Truman-era processes" that up until a few years took place mainly on paper.
"We had started forward on digitizing" several years back, but the process was very slow, Brown said. "We had to take a new approach" that began with "understanding the full flow of business capabilities" and then incorporating domain-driven design and event-driven architecture, he said.
Part of that effort involved creation of application programming interfaces (API) that could be re-used, for which USCIS employed the Google Apigee API management platform. "What we wanted was an API-first mentality … and a good clean understanding of what APIs are and what they can deliver," Brown said, adding that Apigee provides a "first-class platform for that to happen."
One important byproduct of the effort's success has brought is understanding and support from the agency's upper management, Brown said. "Now we have business leaders talking about APIs, that's common place, and it's wonderful."
"We are still on this journey, still moving forward, still have a long ways to go, and a lot of digital products to build," he said.
Check out the Public Sector Summit site for access to all of the presentations.
Read More About