MeriTalk recently connected with ServiceNow's Bob Osborn, CTO, Global Governments, to explore how Federal IT leaders are anticipating and avoiding IT outages that impact employee and citizen services.
MeriTalk: Even before 2020, we know Federal IT leaders have been taking modernization steps, including automating some manual processes and putting digital workflows in place. Then, last March, the Federal government shifted to maximum telework faster than anyone thought possible. From your perspective – what have we learned and what's needed next?
Osborn: Most agencies had good transformation strategies prior to 2020. Many began to automate routine processes and use artificial intelligence (AI) to support human decision making. And then it is 2020. The pandemic hit, and we have everyone working from home. The response to new and unanticipated needs from Federal IT leaders has been phenomenal. The speed in which government agencies accommodated a dispersed workforce was almost breathtaking. It was very impressive.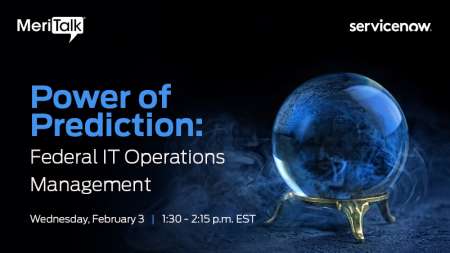 The pandemic enabled leaders to accelerate their transformation strategies. They are embracing tools to create digital workflows that mirror how teams work. We thought we knew how agencies got things done. But, when agencies shifted to maximum telework, things didn't work the way we thought they were going to work.
So now we have the opportunity to catalog processes to achieve desired outcomes. You automate routine elements of the process and reserve human decision-making for higher level decisions. Contextual data helps make better, faster decisions with fewer errors. It's a really exciting time to be able to partner with government in providing these types of solutions.
MeriTalk: The importance of IT systems has been pushed front and center in the pandemic. When systems failed, citizens couldn't file for unemployment, and small businesses couldn't file for assistance. We know many of these systems were running on legacy technology and IT teams were not able to predict when they would fail. What's needed to avoid these problems in the future?
Osborn: All service delivery models rely on visibility and control, working together to deliver a service. The service could be a process for a government employee, or for a citizen.
In many legacy environments, Federal IT teams can't see IT issues that cause outages in advance. For example, a server about to run out of space, or a remote employee who will have an authentication problem logging in from a not-typical remote location. These issues delay the agency's ability to deliver needed services to employees and citizens.
With IT Operations Management (ITOM) software, we gain a real-time understanding of workload distribution across the enterprise. We can get ahead of outages, instead of waiting for someone to call the IT department and complain.
In most cases, we find there are routine outages that are workload related. If we have better visibility into the workload, we can write automated responses to keep the services up.
Artificial intelligence gives us the ability to use past performance. We learn we can link needs to predictable seasonality for some types of services. For example, the Internal Revenue Service experiences service spikes during tax season. The Fisheries and Wildlife Commission has service spikes during hunting and fishing season.
ServiceNow uses native artificial intelligence and supervised machine learning to analyze normalized data from different systems, predict needs, and prevent outages. That kind of real world application is critical to agencies today. 
MeriTalk: Government IT is like acronym soup. We're talking about ITOM – which is different than, but related to, IT Services Management (ITSM). How are they intertwined, and can you have one without the other?
Osborn: It's like peanut butter and chocolate in my book. You can have them independently but when you put them together they're better than the two parts, in my opinion.
IT Service Management lets an IT team understand the workflow that delivers a service, or capability, or mission outcome.
The ability to understand the roles and how people operate to deliver a service is key. Agencies also need to understand how each layer of the IT stack works together to deliver the desired service outcome. This is where most agencies start.
IT Service Management provides the baseline building blocks for employee and citizen services. It's the foundational capability that allows you to build all the other capabilities.
However, we're not monolithic. We can utilize existing technology investments when there are tools in place that provide basic service management capability.
Where it really gets interesting is when you take that that peanut butter center and you put that chocolate on it, which is IT Operations Management. You gain a contextual view of the computing environment. And, you see how the computing environment streamlines service delivery across the agency.
So now you're gaining visibility and the ability to get ahead of outages. Artificial intelligence gives you predictive data versus historical data. These capabilities are all part of the ServiceNow Operations Management Suite, which really upped the game and provides a more mature service delivery system.
MeriTalk: There must be different approaches to ITOM. Based on your experience, what are the best first steps? What does "mature" ITOM look like?   
Osborn: IT Operations Management is a journey to mature our understanding and management of the entire computing environment. The COVID-19 pandemic and the dispersion of the workforce made the benefits clear – agencies with more mature operations management that operated IT more like a business fared better. These agencies responded more quickly and supported the dispersed workforce more effectively. Most important, they kept their services up and running more successfully than agencies who weren't as mature.
Best practices often revolve around a puzzle or a mosaic type of a model. Every agency has invested in a multitude of different technologies, both in their on-premise data centers and also in commercial cloud service providers, such as the ServiceNow private government cloud capabilities that we offer to government agencies.
Agencies need to understand where workloads live and should live, from a data integrity, security, efficiency, and cost standpoint. ServiceNow's IT Operations Suite lets agencies make the best decision for the workload.
IT is like building a house – you've got to get the foundation solid. Advanced technologies like AI let us get ahead of outages and avoid them 100 percent. That's the end state. That's the ideal situation. To get there, you've got to build the foundation of technologies that allow you to achieve that outcome.
The more dispersed and more disparate the technologies with different data constructs are, the more difficult it is to utilize the more advanced technologies. ServiceNow is famous for being a platform of platforms. We normalize data from a multitude of different systems of records, bringing only the data that's appropriate to the workflow applications into a central data repository.
MeriTalk: What are the benefits for efficient operations, for employees, for citizens? What can agencies with modern ITOM achieve vs. those without?
Osborn: Many agencies are working to mature IT Service Management, exploring how IT infrastructure works together to deliver services. As teams scale maturity towards IT Operations Management, they gain that broader view of what's happening across the enterprise. They can include other technologies and systems, bringing data into a common repository.
They also gain a better security view. This has been critical as agencies dispersed the workforce. Teams needed to understand who was logging into the network from which device. IT Operations Management provides this type of contextual awareness. Federal IT teams can accommodate dispersed employees, securely. This is a big step, and is critical as we go forward.
ITOM lets agencies provide modern, easy, consumer-like experiences to citizens. Wouldn't it be great if when you logged into any agency website, and you already had a profile with all your information? You didn't have to enter your social security number and all your data all the time, every time. We can get there when we take a platform approach. It's all built on this concept of an IT operations management computing environment.
MeriTalk: Can you share an example of an agency that improved operations with ITOM, and its impact?
Osborn: Agencies who have embraced an ITOM platform approach are delivering services faster, with fewer errors, fewer redo's, and at a lower cost.
Several agencies have embarked on this journey – I can think of the VA, the Air Force, HHS. It's critical that they identify and codify the vision and the end goal, so teams can build to it. In the same way that building a house requires a model, so does IT. Teams need prompts to create a consumer-like service delivery experience.
These capabilities are now available. As Federal leaders mature IT operations management and prevent outages, they improve efficiency, empower innovation, and the ultimate goal – improve outcomes.
Read More About