The Biden administration announced expanded telework options for Federal employees on Thursday, creating a huge cultural shift for the Federal government that will allow agencies to offer flexible work-from-home and hybrid schedules to employees.
The new 20-page memo from the Office of Management and Budget (OMB), Office of Personnel Management, and General Services Administration, details plans for reentry into the physical Federal workplace, given the significant progress made in the fight against the COVID-19 pandemic. The memo lifts the 25 percent occupancy restriction for Federal offices and outlines how agencies can offer long-term telework options.
According to the memo, the Federal government is maintaining "maximum telework flexibilities to all current telework eligible employees, pursuant to direction from agency heads." The continuation of this guidance from March 2020 allows agencies to build "a collaborative and flexible workplace environment that embraces the wellbeing of its employees."
The new guidance calls for agencies to train managers on "fair and equitable performance management" for hybrid teams. Additionally, it encourages agencies to develop cultural norms to promote "equity of experience among hybrid team members and to protect work-life balance."
"Evaluation of an employee's performance should be based on factors such as accountability for results or quality of the work, and should not be affected by whether an employee is working in the office, teleworking, based remotely, or working a flexible work schedule," the memo says.
This shift to permanent telework options will allow agencies to compete with the private sector, which has offered remote work options long before the Federal government. Agencies will now be able to "leverage issues such as telework, remote work, and flexible work schedules as tools in their broader strategies for talent recruitment and retention, and for advancing diversity, equity, inclusion, and accessibility in the Federal workforce."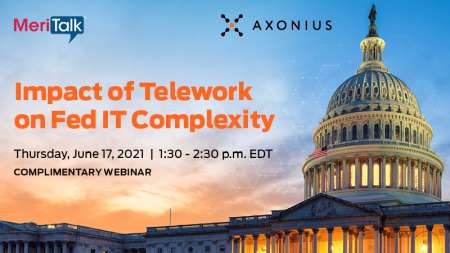 At the height of the pandemic, nearly 60 percent of Federal workers were teleworking daily – a drastic increase from 3 percent pre-pandemic. Agencies found they were able to deliver on their mission needs while working from home and this latest announcement is "a result of lessons learned across government about the efficiencies achieved by flexible schedules and telework," according to the memo.
However, increasing the number of employees in the physical workplace and shifting to a more permanent telework culture will not be immediate.
Agencies will need to provide a draft of their reopening plans to OMB by June 18, and final agency reentry plans are due by July 19. These plans must include "a phased plan for reentry and post-reentry," as well as "an update of the agency's COVID-19 workplace safety plan."
Read More About