The Department of Veterans Affairs (VA) is piloting a new telehealth program that uses tablets and cloud services from AWS GovCloud to help veterans recover faster. The new program is specifically targeting non-healing wounds, which cost the U.S. roughly $50 billion per year in healthcare expenses.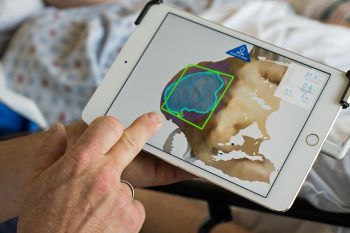 The two percent of veterans dealing with non-healing wounds frequently have mobility issues, which makes coming into doctor's offices and hospitals a challenge. By using telehealth technology, the VA is able to improve the quality of care, while also lowering the price. The new program uses a tablet equipped with 3-D sensors and computer vision software to capture high-resolution images and measure a veteran's persistent wound.
"The really great thing about this is that in the past, doctors would have to visually estimate whether a wound has improved based on memory of a past image, which can sometimes be confusing when you also have to remember other patient images as well," said Kevin Broder, M.D. and project director for VA's Wound Image Capture and Storage Innovation, in a VA blog post. "This tablet provides recorded, accurate data to track progress."
In addition to providing accurate records, the new technology also streamlines the process for monitoring injuries and storing patient data.
"In the past, nurses would often have to take pictures on digital cameras, organize the pictures with the right patient information and spend time out of the week uploading the right images to the right places," said Christopher Menzie, public affairs specialist, VA San Diego Healthcare System, in a blog post. "This technology handles it all automatically in an efficient, organized manner. Take the picture, use the modeling software and upload the image onto the cloud avoiding the cumbersome manual work."
To improve the processing time for images and data, medical professionals can send both the captured photos and data to the cloud. This eliminates the need for medical professionals to spend time outside of the appointment uploading photos and pairing images with the collected data. Doctors can then monitor the progress of the healing on a weekly basis, and change the treatment regimen if needed.
The VA hopes the cloud technology will evolve to the point where the images and data are automatically sorted into the patient's medical file, further decreasing care costs and eliminating the risk of human error.
In addition to saving time, the VA expects the software to save millions in healthcare costs by lowering the cost of care for each veteran. The tablets, which cost $900 each, are far less expensive and more portable then the telemedicine carts that were previously used for similar documentation. Doctors expect that in the future, the tablets can be used to track additional veteran healthcare issues and will help improve care for more veterans.
Read More About