The U.S. Patent and Trademark Office (USPTO) is currently undergoing a digital transformation to better deliver enterprise IT focused on cybersecurity, resiliency, and cloud, an agency official said on April 22.
During ACT-IAC's Federal Insights Exchange Featuring Department of Commerce event, USPTO CIO Jamie Holcombe spoke about his agency's progress on modernization efforts and said cybersecurity, resiliency, and cloud are three major items it is currently working on.
"Number one: cybersecurity. The attack profile since everybody has gone remote has increased exponentially. If you don't think you're being hacked, you've probably already been hacked," Holcombe said. "It's not a question of if you're going to get hacked, it's a question of when and how are you going to respond. If you don't test that out, if you don't have a response ready, you're wrong. Period."
As for resiliency, Holcombe said agencies should have a "backup plan" to get back online if their remote devices short out. "And if you haven't thought about that you're not resilient," he added.
One method to do that is to move data to the cloud, another modernization effort Holcombe said the agency is working hard on.
"Why? Cloud is modernization. Cloud is a code word for 'Hey guys stop your old client-server applications,'" he said. "We have to create newness in the world because we deal with innovation and creativity."
One way the USPTO is working towards both resiliency and the cloud is by building a new data center in Manassas, Va. that will back up its current data center located in Alexandria, Va.
"It's going to give us the ability not only to have a hot, hot situation where we have two places, Alexandria and Manassas, but also the ability to move our applications out in the cloud so that we have services that are cloud services and we're modernizing all of our applications," Holcombe said.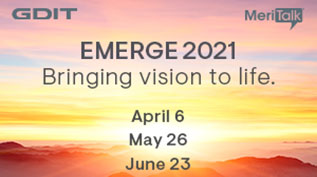 Another way USPTO is working towards its three modernization goals is through the stabilization of its critical systems. During the panel, Bob Simms, infrastructure product line leader at USPTO, said over the past two years the agency has worked to stabilize 22 of its 26 systems.
This stabilization effort means the systems are now on vendor-supported versions and the agency addressed technical debt and security vulnerabilities that may have existed in those systems once before. Simms said the remaining four systems will complete their stabilization process by the end of this fiscal year.
"One other advantage that we see as a result of the work that we're doing in stabilization is not only that increased security posture and addressing of technical debt, but the increased resilience, automation, cloud adoption, and business intelligence," Simms said. "Looking at not just addressing the technical debt that we're carrying in some of these systems, but also what the future plans of that system may be, and its portability, its ability to go from on-prem and move into the cloud."
Read More About