The U.S. Department of Agriculture received a C grade on its Federal Information Technology Acquisition Reform Act (FITARA) scorecard, which was released in May. While USDA's score was higher than most of its fellow agencies, Flip Anderson, acting executive director of FITARA for USDA, was not pleased.
Frustrated with the FITARA grading system, Anderson created his own scorecard to gauge how closely the USDA complies with the act's mandates. He releases this scorecard every quarter, and will continue to do so until the FITARA scorecard more accurately reflects the act's core issues, such as privacy, cybersecurity, and open data set availability.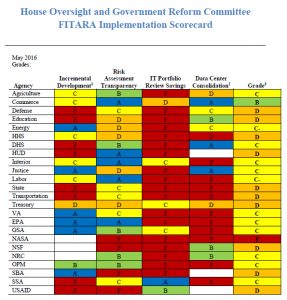 "It's like trying to move the Titanic," Anderson said. "It's going to take a while to apply all the metrics across Federal agency space."
The four graded fields on the FITARA scorecard that factor together to make up the final grade include Internal Development, Risk Assessment Transparency, IT Portfolio Review Savings, and Data Center Consolidation. One of Anderson's chief concerns is the closing of data centers; USDA received a D in this field on the scorecard.
Anderson expressed frustration because the USDA has closed many data centers this year. However, these closures were not recorded because they were too small to recoup any savings.
"There are a lot of pieces in FITARA that they're not addressing," Anderson said. "USDA has closed thousands of data centers. It might be a server sitting in an office in Kansas, but they didn't give us credit for actually closing."
Despite the fact that he disliked FITARA's scorecard enough to create his own, Anderson stated that he will still try to bring his agency into further compliance with the act. Last month, USDA instituted an IT Fellows plan in which volunteers within the agency try to form collaboration between chief information officers and chief financial officers, as well as create better tools to analyze the amounts of data the agency captures.
In addition to creating collaboration between the agency's leading officers, Anderson also revealed some aspects of the USDA IT Workforce plan, including peer review systems and pilot programs. These programs will involve USDA employees serving terms in other agencies or private companies in order to gain more workforce experience. Anderson said that USDA recently contracted a small business to analyze all the factors that constitute the evolving IT workforce plan.
Anderson hopes that his own personal scorecard can one day be used to influence the official FITARA scorecard. Although he said the FITARA scorecard does not properly reflect USDA's compliance efforts, he received some encouragement from Rich Beutel, one of the authors of FITARA. Anderson said Beutel told him that USDA was the most mature agency in the way it is tackling FITARA.
"[Our scorecards] have helped us improve the posture of security," Anderson said. "I look forward to seeing what Rich Beutel presents to the GAO."
Read More About