Treasury Department Chief Information Officer Sonny Bhagowalia has been reassigned as a detailee at the Bureau of Fiscal Services, according to a department spokesperson.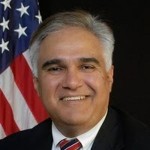 In the new role, Bhagowalia will continue working on cybersecurity and technology projects. Deputy CIO Eric Olson will become acting CIO in Bhagowalia's absence.
Bhagowalia joined the Treasury Department in 2014. Before that he was Hawaii's CIO and the governor's chief adviser on technology. Bhagowalia also held positions as deputy assistant administrator at the General Services Administration's Office of Citizen Services and Innovative Technologies, and CIO of the Department of the Interior.
Bhagowalia talked about his experience with the Federal Information Technology Acquisition Reform Act (FITARA) at an Association for Federal Information Resources Management event in February.
"I think that some of the scorecards are not normalized, and they are not representative of very complex, large agencies which have got a lot more progress going on. And I think I can just say some of these scorecards don't really indicate the true progress that is being made," said Bhagowalia. "And I think it takes a while to get things done."
The Treasury Department received a C-minus on the FITARA scorecard in June.
"I think this is a journey," said Bhagowalia. "This is not a sprint; it's going to take a little time."
Read More About