Back in March, the Federal government pivoted to telework practically overnight and since then, Federal IT experts have been on the hunt for ways to improve the employee experience, maximize productivity, and strengthen remote environment security.
During an Oct. 14 Tech Talk briefing, MeriTalk spoke with three tech-sector veterans to discuss recommendations to evolve remote work environments, including best practices around deploying solutions like Virtual Desktop Infrastructure (VDI) and virtual Graphics Processing Unit (vGPU) technology.
Alexander Romero, Director of Strategy, Chief Technologist Office, VMware shared challenges specific to government's remote work expansion. He advised that you can break agencies into two groups – those who have been enabling telework processes over many years, and those who have not. But, he acknowledged that even those who had an infrastructure foundation and some policy/processes in place faced challenges, as there is a big difference between having 30 percent of the workforce telework one day a week, and everyone working from home, every day.
With the increased use of government-issued devices and personal devices outside of the enterprise network, virtualization has proven essential to remote workforce expansion – including vGPU technology.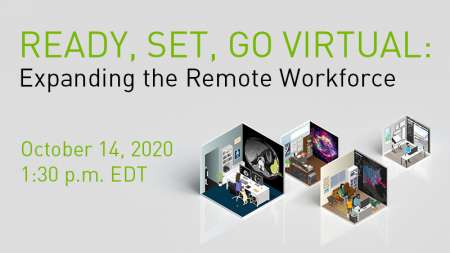 "vGPU technology plays a role on several levels," said NVIDIA's Senior Solution Architect of Professional Visualization, Eric Kana. "NVIDIA vGPU is a software and hardware technology that enables multiple virtual machines in a VDI environment to utilize the same physical, or silicone, GPU. This enables hypervisor integration, better scaling per host, and provides for the GPU and overall compute cluster investment value."
"Since multiple users, thus multiple virtual machines can share GPUs in a host, and several GPUs can commonly fit in popular OEM chassis, like VxRail, we can achieve better scaling."
Kana shared several examples, noting that, "from an end user perspective and a line-of-business perspective, it's all about the end user experience as well as application enablement. Applications that would regularly require a GPU in a workstation scenario on your desktop, can now work in a virtualized, telework scenario."
Prem Jadhwani, Chief Technology Officer at Government Acquisitions, offered perspective on the variety of remote work use uses for VDI with vGPU, including virtual and augmented reality, simulations, 3D modeling, and AI.
He also emphasized the many use cases related to the average knowledge worker that benefit from vGPU – noting we are all using PowerPoint, Microsoft Office applications, and streaming applications.
Kana offered suggestions for teams as they modernize, starting with an up-front needs assessment. If the goal is to build a VDI solution for knowledge workers, that will be different than one for SOLIDWORKS users, or one for deep learning scientists, Kana noted. He recommends building the solution from the application and user perspective and then running a proof of concept to understand the environment and to, "find the different parts of the use case that only come to fruition once you test them."
Many agencies are working to address the inherent complexity of the remote work environment.
"If traditional processes dictated that there must be an antivirus capability on a Windows PC, for example, that doesn't necessarily translate to an endpoint that's running on iOS or Android. Architecturally, those are different and need a different security approach to enable employees to do their job on those devices," Romero explained. He added that on the VDI side, VMware recently announced building that security, next-gen anti-virus, into a level below VDI in the vSphere capability, in the virtual machine.
He noted that while agencies initially had to focus on scaling the processes, now they can look at the next generation technologies that provide the same or ideally better security, better access – and figure out how to deploy those. "You begin optimizing for cost and efficiency," said Romero.
Jadhwani had advice for next steps, considering the requirement for on-going ubiquitous remote work. His key message was to consider modernization a long-term process and to look at the big trends, including cloud and Software-as-a-Service, to explore, "how the infrastructure can be modernized so it's not just on premise, but suitable for multi-cloud, hybrid cloud, and cloud native environments."
He emphasized that there are thousands of organizations taking advantage of NVIDIA vGPUs, and recommended considering the technology for all modernization efforts – including telework and knowledge worker projects.
Last but not least, Jadhwani advocated for a holistic approach to security, considering the full stack – infrastructure, back-end data preparation, algorithms, visualization, etc. And, he agreed with the importance of executing proofs of concept, particularly for projects involving AI, ML, and GPUs – emphasizing that AI, ML, and robotic process automation are technologies that are real today. "GAI has a state-of-the-art AI/ML lab," explained Jadhwani. "We can look at the use case and execute the proof of concept." He said this gives agency leaders the opportunity to separate real technology from hype, kick the tires, and then have a discussion about how to scale in their environment.
Listen to all the advice and recommendations by viewing the full virtual tech briefing.
Read More About