A fleet of 16 mannequins is joining the groups of TSA officers who are training for pat-down procedures.
The Department of Homeland Security Science and Technology Directorate partnered with Design Interactive last fall to create the Pat-down Accuracy Training Tool. This tool, nicknamed PATT, is a mannequin endowed with a layer of sensors that can detect the amount of pressure a trainee is applying.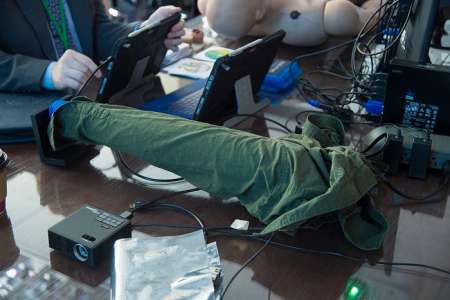 "In real time, the associated PATT software visualizes coverage, timing, sequence, and the degree of pressure exerted in pounds per square inch and within one inch accuracy," said Darren Wilson, a program manager within the S&T First Responders Group's Office for Public Safety Research, in an exclusive conversation with MeriTalk.
Each PATT mannequin contains about 2,000 sensors, which cover 90 percent of the body's surface. After trainees practice a pat-down on PATT, the software allows them and their instructors to review their performance and watch a playback of the pat-down to identify missing coverage areas and inadequate pressure application.
The first PATT, a female prototype, has already been deployed for test use. This mannequin has been demonstrated at Los Angeles International Airport, Orlando International Airport, and the TSA Systems Integrating Facility in Arlington, Va.  The first male PATT will be deployed within a month; the remaining mannequins will follow.
"These units will be used to support training effectiveness evaluations at the TSA Academy and designated research airports to quantify the performance impact of utilizing PATT in Transportation Security Officer training as well as support identification of best practices for field implementation," Wilson said.
Wilson said PATT provides objective data that may not translate from human instruction. Training pat-down procedures can be challenging because they involve touching sensitive areas of the body. PATT offers information outlining the completeness and adequacy of a pat-down within a training context, which subjective one-on-one feedback may not relay.
"Each trainee is compared to standard thresholds for coverage, sequence, and pressure, thus removing the subjectivity of pat-down evaluations by observation alone, and providing consistent, measurable feedback to improve overall performance," Wilson said.
Read More About