More than one-third of the Small Business Administration's 120 circuits are overloaded. To resolve this issue, chief information officer Maria Roat plans to modernize SBA's infrastructure by moving to a "pure Ethernet backbone."
She said Ethernet will help employees with Skype and virtual counseling, and will extend to all of the agency's field offices.
"Moving to the cloud is also a big piece of that," Roat said at the Senate Committee on Small Business' hearing July 12 to review the CIO. "Ultimately, this office needs to transition from an office that does computers to a service organization."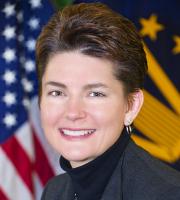 Roat said she had been "laser-focused" on her chief goals for 2017, which were to stabilize and modernize. She has also instituted an enterprise approach and introduced advanced threat protection capabilities.
As her agency migrates to the cloud, Roat has increased training sessions and performance management metrics. She hosts offsite sessions, monthly IT forums, and "lunch and learns" covering topics from cybersecurity to agile methodologies.
"Moving into cloud right now, it is really important that security folks really understand cloud architecture," Roat said. "That training is really important. We're approaching security by design—building it in, not bolting it on."
SBA has a history of fraught IT modernization initiatives. The agency has had eight CIOs since 2005. A Government Accountability Office report from 2015 maintained that SBA had not prioritized IT transformation or conducted regular reviews.
Roat joined SBA in October 2016. Prior to this role, she served as chief technology officer of the Department of Transportation. She also worked at the Department of Homeland Security for 10 years and served in the Navy for more than 20 years.
Over the next 12-18 months, Roat said IT capabilities will continue to mature at SBA. Her long-term goal is to use direct hiring authority to expand her workforce and include more bright IT people. According to Roat, the Federal government attracts people who are passionate about the agency's mission. For example, some employees' parents ran small businesses.
"To overcome the inherent inertia of status quo, we are making a radical and difficult but deeply-considered and well-planned turn," Roat said. "People come in to the Federal government for the mission. The IT people really want to work because they're supportive of the mission. We're turning over the rocks and trying to get as many people as we can."
Read More About