The National Institute for Standards and Technology (NIST) is working to improve first-responder communications in an emergency through the Rapidly Deployable Public Safety Research Platform, or Nerdcart, as social media has dubbed it.
"The portable system was built to enable research in diverse environments," said Tracy McElvaney, an engineering supervisor in NIST's Public Safety Communications Research (PSCR) Division. "But it is modeled after FirstNet's image of a vehicle-borne network system and the public safety community's vision of a rapidly deployable system to be used when the nationwide network is not available."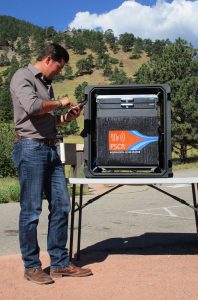 The Nerdcart operates by providing voice, text, instant messaging, video, and data communications to more than 200 emergency users over the span of about 2.5 miles. The cart, which is about the size of a large filing cabinet, makes a difference due to its quick deployment time and ability to connect with both Long Term Evolution (LTE) phones and Land Mobile Radio (LMR) systems.
"Typically, it takes on the order of hours to deploy a 'cell on wheels' system to provide coverage at an event, and multiple deployable systems are needed to enable both LTE and LMR," McElvaney said. "Our system provides LTE, LMR, video, and data. We rolled the system from the vehicle into the building, and once connected to an AC power outlet, we were making calls in less than five minutes."
The work was partially funded by the Department of Homeland Security 's First Responder Group, and integrates commercially available technologies from a variety of private sector partners into a single platform.
"Our role at NIST is not to develop the technology itself, but to integrate the state-of-the-art pieces into a conceptual platform that will help drive the industry to meet public safety needs—that is, to make portable systems smaller, more robust, and with more capabilities," McElvaney said.
Currently, PSCR staff are working to integrate sensor data and analytics into the cart's systems, as well as enabling the system to connect to already established and temporary emergency networks in the area in which it is set up.
Read More About