Welcome to MeriTalk News Briefs, where we bring you all the day's action that didn't quite make the headlines. No need to shout about 'em, but we do feel that they merit talk.
DoD Searching for Cloud-Based Internet Isolation Solution
The Defense Information Systems Agency (DISA) is searching for a cloud-based Internet isolation capability to support its endpoint security solutions portfolio, according to a request for information (RFI) released Monday. The enterprise capability DISA is looking for would defend against a variety of attacks that exploit Department of Defense (DoD) networks and compromise end clients. Specifically, the sought-after service would redirect the act of Internet browsing from the end user's desktop into a remote server, external to the DoD Information Network, and deliver as a cloud-based service leveraging concurrent use licenses at roughly 60 percent of the total DoD's 3.1 million users, according to the RFI. Interested parties have until 1:00 p.m. EST on June 29, 2018, to respond.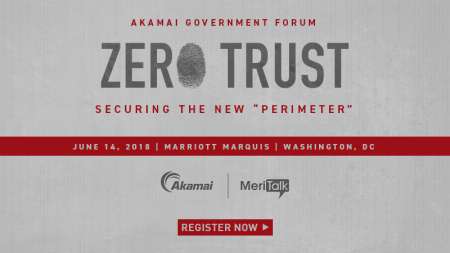 CACI International Secures CDM Cybersecurity Contract
CACI International announced yesterday that it will provide cybersecurity services for the next iteration of the Department of Homeland Security's (DHS) Continuous Diagnostics and Mitigation (CDM) program. The information solutions and services provider said it has been awarded a task order with a ceiling value of $407 million to develop cybersecurity tools and solutions for CDM's Dynamic and Evolving Federal Enterprise Network Defense – Group A (DEFEND A). CACI will work to strengthen the "IT security posture of DHS component agencies by designing, building, deploying, and operating integrated CDM solutions that include dashboards and tools for continuous monitoring, diagnosis, and mitigation, along with associated services," according to a release. MeriTalk previously reported CDM Program Manager Kevin Cox's announcement that DHS awarded the task order on April 27. At the time, Cox said a short period would follow to allow for protests of the award.
Report: Many Security Centers Feel Understaffed
A new report from data security technologies provider Exabeam finds 45 percent of IT professionals working at security operations centers believe their operations are understaffed, and of those, 63 percent believe their centers could use another two to 10 employees. The firm's inaugural "State of the SOC" report also found that 62 percent of managers and "frontline" employees at security centers identified inexperienced staff members as a "pain point," but that only 21 percent of CIOs and CISOs shared that opinion. Finally, the survey found that 54 percent of security center professionals believe that technology is underfunded in their centers.
Read More About