An e-book published to coincide with World Oceans Day today hopes to bring together researchers, government agencies, students, and technology to better the understanding of the world's oceans.
"If the oceans need help, then the entire planet needs help," said Dawn J. Wright, chief scientist at Esri and editor of the second edition of Ocean Solutions, Earth Solutions, a book aimed at compiling and bettering the data surrounding ocean research. The book contains the best papers presented at the annual Esri Ocean Geographic Information Systems (GIS) Forum.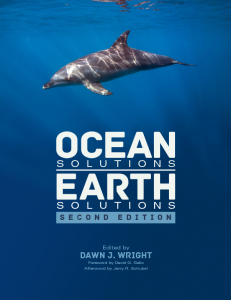 "This book provides numerous examples of what GIS can do and, more important, how to go about doing it," said Jerry R. Schubel, president and CEO of the Aquarium of the Pacific in Long Beach, Calif., in the book's afterword. GIS systems work by capturing, storing, and displaying different kinds of data on a map. As shown in the book, these systems can be incredibly helpful in understanding oceanic trends.
"They are our best means for intelligent mapping," Wright said of GIS systems. She explained that though traditional mapping can be helpful, it is more important to have "a map that can actually do an analysis, that can actually figure out why the points and the lines are there, and express that 'why' in terms of a summary statistic or in terms of additional maps or additional graphics."
The book is designed to appeal to both dedicated scientists and those that are simply interested in understanding marine research.
"The target audience is for those who have some experience with GIS and are looking for ways to use GIS to solve ocean problems," Wright said. However, she hopes that people beyond GIS experts will take the time to better understand the research and its meaning. "We want the book to inspire everyone, and the chapters are written so that any reader can get the gist of what's going on."
The book seeks to inspire Federal and local government agencies that could have important data on ocean health and trends. One chapter, for example, focuses on work and research done by working with U.S. Navy data.
"I think one of the big emphases for the book is for people who are doing similar kinds of work, particularly in our U.S. government," Wright said. "Let's say a researcher in a government agency sees this chapter; they can say, 'oh this looks like a good thing to do, and these authors have provided the Python computer scripts that we can use to convert data from our own robots into something similar.' "
The book also targets students who are interested in ocean data research, with Chapter 21 written by a group of undergraduate students who attached cameras to kites to observe atoll erosion.
"Another really important audience for this book is students, particularly college students and graduate students. And we're very proud of the fact that Chapter 21 was written by undergraduate students at the University of Redlands," Wright said. "This is totally something that other students can do for thesis projects or volunteer work."
Another chapter focused on the ability of "citizen scientists" to add to marine data by recording mammal sightings on phone apps. This group sourcing method adds to the data available and engages a wider audience of people in understanding of the world's oceans.
"A lot of apps for your phone now have these kinds of observation/collection capabilities, so that if you see something, you can just press a button on your phone," Wright explained. She believes that open, understandable data, such as mobile apps and the book itself, will be the future of ocean study technology.
"I see it being much more transparent to everyday people," Wright said. "I think that is one of the mantras or one of the foci of this book. None of this research is unusual in terms of 'it's never been done before.' There are many, many people who are doing very similar studies or similar kinds of research to what we have in this book. But a lot–I would say most–of that research is not understood unless you are a specialist in that particular area. And so this is the challenge right now with communicating science."
Increased communication also poses the possibility of furthering study, as research projects can verify and piggyback off each others' data.
"There will be a cycle of new studies. We hope that these existing studies lead to follow-up studies or give especially students and government agencies […] ideas for new projects. It's also a good way to give them an outlet to publicize their research," Wright said. To further this endeavor, purchase of the book also includes access to digital copies of the studies' data sets
"The idea here is that these researchers are doing good science studies, like the group from NOAA [National Oceanic and Atmospheric Administration] that looked at fish and coral abundance in the Virgin Islands, and created a series of maps so that anyone who is interested in conserving or understanding and preserving fish and corals…they can actually work with this data."
Wright also hopes that this available data may inspire the research that will make up the book's next editions moving forward.
The print book will be available on June 20.
Read More About