Time may be running out on the Federal government's plan to replace and modernize billions of dollars' worth of legacy IT systems—some of which date back more than 40 years and control critical programs, including the U.S. military's nuclear arsenal.
With only five months to go before the November presidential elections, Congress remains uncommitted to Federal Chief Information Officer Tony Scott's proposal to create a $3.1 billion IT modernization fund. The money would serve as a revolving capital fund that agencies would apply for and use to upgrade and replace the billions of dollars' worth of outdated computer systems. A detailed business case would be required for each disbursement, and agencies would be required to pay back any money realized from savings.
"We have a moment when we have a legislative framework that has a lot of flexibility…and heavy incentives for agencies to get with the program," said Rep. Gerry Connolly, D-Va., co-chair of the Cloud Computing Caucus and one of the lead authors of the Federal Information Technology Acquisition Reform Act (FITARA). "There's bipartisan consensus on the Hill. If we don't take advantage of that, shame on us."
Speaking at the 2016 Cloud Computing Brainstorm in Washington, D.C., Scott agreed that the effort to reverse the government's addiction to outdated computing systems is now at a critical turning point. "It's now time to do something about this," Scott said. "Doing what we've always done is not going to get us where we want to go. It's time to declare that the status quo is unacceptable."
Scott offered a detailed look at the roots of the government's legacy IT problem and blamed the Federal IT funding model for the lack of progress to date in getting Federal agencies to cooperate on modernization needs. According to Scott, there are 7,000 funded programs across government. For every $1,000 of investment, the government pays approximately 15 percent annually for maintenance of those systems.
"That's 80 percent of the budget—stuff that exists today," Scott said.
"If you're the Federal CIO, you have to go to 7,000 programs and say you want to do something different. How do you think that's going to work out?" he asked. "What I know is that we're not going to get there if I have to go tin cup around to 7,000 different programs. The chances of success are really, really small."
Revolving Fund
Scott's plan—his only plan, at the moment—is to get Congress to pass legislation that will create a $3.1 billion revolving capital fund for IT modernization efforts.
"It's a one-time ask," he said. It would go into a fund that agencies or groups of agencies can get incremental funding from as they hit key milestones. Then, when the program goes live, agencies would pay back the fund from savings, data center closures, or other efficiencies.
"Payback is important here," Scott said. "It's a foreign concept to many in government. That scares a bunch of my Federal friends."
The key to the fund's success will be requiring agencies to submit and stick to detailed business cases for the funding they need. Decisions would be based on the potential for cross-agency shared services, impact on an agency's cybersecurity posture, and overall savings.
"In today's get it and forget it funding world, your attention turns to something else. If the fund gets repaid, that capital can be used to invest in the next set of things that need upgrades," Scott said. "It's a continuous refresh, continuous upgrade model. We're never done."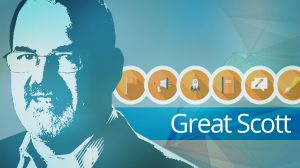 Great Scott
Industry executives who took part in a panel discussion on the IT modernization fund said keeping Scott in the Federal CIO position through the transition of presidential administrations could improve the chances of the fund's ultimate success.
"It would go a long way toward reassuring industry," said Bretton Stafford, Federal principal at EMC.
MeriTalk launched an online campaign, called the #GreatScott campaign, to petition the White House to keep Scott on as Federal CIO through the transition. Scott did not rule out staying on longer, but added that he has not been asked to do so.
Rich Beutel, principal at Cyrrus Analytics and the former lead acquisition and procurement policy counsel for the House Oversight and Government Reform Committee, told MeriTalk that there's a 65 percent chance of the IT modernization fund being passed. Both House and Senate Republicans are beginning to warm up to the idea. According to Beutel, there may be movement on the Cloud Infrastructure Transition Act of 2015, known as the Cloud IT Act, before the July 4 holiday.
Jessie Bur contributed to this story.
Read More About