General Dynamics Information Technology (GDIT) said today it is adding Amazon Web Services (AWS) offerings to the lineup available through GDIT's milCloud 2.0 contract, one of the key pillars of the Defense Department's (DoD) enterprise cloud environment.
The addition of AWS, GDIT said, will give DoD mission owners access to additional secure cloud services, and provide Federal defense agencies with "another mechanism to quickly and easily move their workloads to AWS through a streamlined contracting process."
"We're pleased to announce milCloud 2.0 capabilities are now expanded to also provide mission partners leading cloud services from AWS," said Leigh Palmer, Senior Vice President for GDIT's Defense Division. "This aligns precisely with the DoD Hybrid Cloud Strategy and simplifies acquisition and choice for DoD and DISA mission partners."
Users across the DoD can leverage the milCloud 2.0 contract for migrations, application modernization, and new application development. Now with AWS on board, mission partners can also take advantage of leading cloud services in analytics, edge computing, end user computing, and security.
With streamlined onboarding via the existing milCloud 2.0 contract, DoD customers can bypass typical lengthy acquisition processes and get up and running on a wide variety of workloads in less than 48 hours.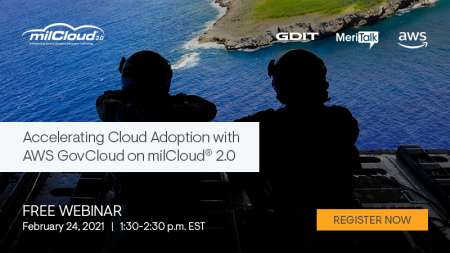 The pandemic and recent SolarWinds cyber-attack demonstrate the importance for the DoD to bring technology to mission faster, and a need to modernize legacy environments to improve security and agility. The milCloud 2.0 expansion offers DoD mission partners cloud choices that can help them accelerate migration and modernization efforts.
milCloud 2.0 already offers mission partners on-premise, fit-for-purpose cloud capabilities for mission critical applications and data that must remain inside the DoD network and facilities. The partnership with AWS now expands milCloud 2.0 capabilities by providing the DoD with off-premise general cloud services.
GDIT President Amy Gilliland noted, "GDIT is excited to expand milCloud 2.0 with leading commercial cloud services from AWS. This partnership will provide an immediate capability for the DoD and mission partners to accelerate cloud adoption, advance security and innovate with the latest cloud and emerging technologies."
Dave Levy, vice president of U.S. Government, Nonprofit and Healthcare at AWS, said the agreement with GDIT will let DoD customers "access leading cloud services from AWS in areas such as compute, storage, database, networking, analytics, machine learning, migration, security and more." He continued, "We look forward to continuing to support the Department's modernization efforts and the mission critical needs of our nation's warfighters."
Read More About