Federal technology leaders offered an upbeat assessment on the climate for innovation in government operations on the inaugural episode of MeriTV, which launched last week to provide news and insight on today's mission-critical IT challenges.
Officials from ACT-IAC, the Partnership for Public Service, Google Cloud, and MeriTalk framed the innovation discussion around findings from their new report, "Resilient, Keeping Your WITS – Workforce, Innovation, Technology, Security – About You." The report – based on input from 300 Federal tech leaders – calls for more investments in those four areas to improve how government serves citizens coming out of the COVID-19 pandemic.
"I think there's a great desire to break down the barriers" to effectiveness, said ACT-IAC CEO Dave Wennergen.
"A key to resiliency is being able to recognize that some processes, some jobs, even some organizations, may no longer be relevant in the new normal that we are facing post-pandemic," Wennergren said.  "Leaders must be willing to question the status quo and see if there isn't a new way to reevaluate processes and to think differently about how work gets done."
The ACT-IAC CEO added that Federal leaders and operations managers need to do more to "relentlessly communicate" about prioritizing innovation and measuring the effectiveness of new initiatives, while at the same time empowering employees to be more creative.
"It's every good leader's responsibility to set the course," he said, and "then be smart enough to know when to get out of the way."
Katie Malague, vice president for government effectiveness at the Partnership for Public Service, said that even though government over the long term has been "one of the most prolific hubs for innovation in history," that part of the mission can always use another push.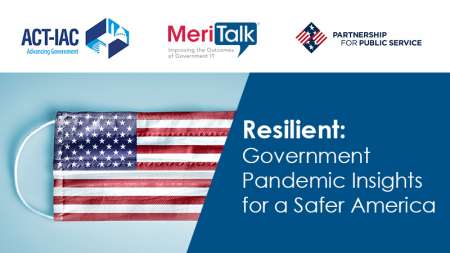 Malague noted that during her eight years in senior positions at the Treasury Department and Office of Management and Budget, "risk aversion, fear of failure, and the lack of leadership support were often key barriers that inhibited the speed of scope of innovation."
Some Federal agencies have overcome aversion to innovation during the coronavirus pandemic, due in part to the sheer urgency of the situation, Malague observed. "We've seen some more rapid innovation and a greater willingness to try new things," she said, adding, "perhaps we can learn from some of those lessons."
And she emphasized that support from top executives is necessary to give employees a "safe space" in which to innovate and propose new ideas. "They can create such an atmosphere to allow employees and teams to move forward, knowing they have leadership backing rather than worrying that at some point the leadership will shut them off," Malague said.
Newer technologies – including cloud computing, AI and 5G wireless services – can create "intentionality around end-to-end digitalization," said Alexis Bonnel, senior business executive at Google Cloud, and former chief innovation officer at the United States Agency for International Development (USAID)
"What I mean by that is actually being honest, looking at our processes, our policies and our procedures, and actually upscaling them to meet the power of digital technology and not downscaling the technology, if you will, to meet the paper process," she said. "I think this year has been a really exciting time for that."
Newer technologies can also help agencies be "intentional about data as an asset," Bonnel said. "Ironically, that may actually mean getting rid of some data. It may actually mean rethinking or getting rid of data that might have been done in old processes or in things that just weren't as accurate as new technologies can provide. Taking in more data is a huge opportunity, but it's also about being more intentional about the data we have, and where that puts us in our decision making."
Also on the data front, Bonnel she's excited about the pace of AI and machine learning deployments over the past year – and what that can do for innovation. "It's being rolled out in more ways than I ever thought possible even a year ago," she said. "Whether that's eliminating pain points like paperwork, helping to address 100 times your normal customer interactions, or things like predictive maintenance … it's just much more accessible than it ever has been before. We've lowered a little bit of the risk perception and started to see the practical realities" of using more advanced technologies.
For the whole story – including a discussion on needed Federal technology and security investments – check out MeriTV.
And don't forget to mark your calendar for the Resiliency Colloquium on Feb. 9, which will feature an in-depth discussion with Federal leaders about the report's findings, and the best paths forward for Federal IT and citizen service.
Read More About