Federal leaders agreed during a Feb. 25 virtual conference organized by GovExec that the Federal government needs to change its mindset and culture to allow for more telework in the future, even after the COVID-19 pandemic.
"It's changing the culture to say that it's okay to allow people to telework, you don't have to have the person right next to you to do the work at hand," said J. Blair Duncan, chief human capital officer at the Department of Health and Human Services (HHS).
"That's where it gets difficult sometimes because there are some managers that do not want people to telework," he said. "Regardless of a pandemic or not, they want them right there. And that's what we have to overcome and it's going to take some time, but I think as a government … I think we'll get there, I really do."
Ray Limon, the chief human capital officer at the Department of Interior, emphasized that the Federal government needs to shift its mindset from focusing on the brick-and-mortar environment to instead focusing on the employees.
"We are building this ecosystem that has traditionally been around the building and how you interact with a brick-and-mortar environment. This pandemic has forced us to rethink that," Limon said. "The ecosystem is now the employee, the systems now have to support the employee to perform their duties and meet the services of our citizens, so it's an exciting time."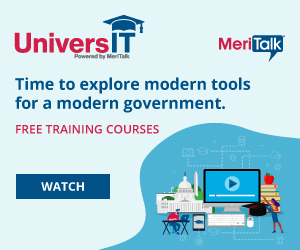 The pandemic has also provided an opportunity to evaluate agencies' security needs while teleworking, according to Katie Olson, deputy director of the Defense Digital Service.
"It's an opportunity for us to think about our cyber hygiene and making sure that everyone has the tools and resources that they need to be productive in a remote environment," Olson said.
Andréa Viza, the director of talent at the United States Digital Service (USDS), agreed that it's important to ensure security needs are being met, but also said the Federal government needs to "catch up with the private sector" when it comes to technology.
Viza said it is often an "uphill battle" when trying to implement new technologies or applications into the Federal government. She called for the Federal government to accommodate "the type of lifestyle and work environment that the government needs to apply to be competitive with the private sector."
"This has really been a pivotal moment for Federal government to understand that you don't have to accept this is the way we've always done it, because it is 2021, 2020, we need to make changes to accommodate the world that we're living in," Viza said.
Read More About