The majority of Federal agencies are embracing converged infrastructure for their data center needs, and seeing improvements, according to a new MeriTalk report.
"It amazes me that 72 percent of Federal IT managers are already stating that converged will become the central housing mechanism for their data center needs," said Milo Speranzo, director of strategy and compliance for Tech Data. "That number is only going to increase and that increase will happen rapidly and in the near future."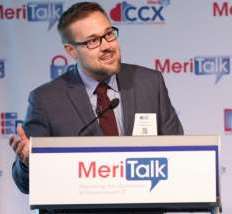 Converged solutions appeal to Federal agencies because of the cost savings, according to Speranzo. Eighty-eight percent of the users said that their budgets have been reduced by more than 10 percent, which drives the need for cost-effective solutions.
Forty-five percent of Federal IT employees cited data protection as the reason for using converged infrastructure, 45 percent cited the need for increased scalability, 43 percent cited the need to optimize mission-critical applications, 41 percent cited the need to improve compliance, 37 percent cited the need to update existing infrastructure, and 37 percent cited the need to cut infrastructure costs.
"Security concerns continue to be a hot-button issue and frankly, it should be," Speranzo said. "The solutions providers need to bring an airtight security solution to the table from day one."
Forty-four percent of Feds said that security concerns are slowing down their adoption of converged infrastructure.
"Successful adoption of the new solution is dependent on ensuring the agency users are trained methodically at every point of the implementation," Speranzo said. "The Federal buyers want to see not only the technological but how you will secure it and how you will train their teams; bring that to the table immediately to reassure your customer that you know their pain points and mitigate risk as much as possible."
Fifty-seven percent of respondents reported seeing improvements when they adopted converged infrastructure in growth and operational efficiency, 47 percent saw improvements in growth in mission success, 36 percent saw a reduction in deployment time, 36 percent saw reduction in management costs, and 31 percent saw reduction in power and cooling costs.
"Very similar to other complex solutions, the champions your teams need to leverage are the ones that are already seeing the benefit," Speranzo said. "This report shows that Federal customers that have a converged solution up and running are seeing dramatic increases in efficiency and mission success. Use this past performance, lead with it, show potential customers what their peers are saying.
"In my engagement both as a buyer working for the government and on the commercial side selling, this type of 'peer pressure' can really make the difference."
Read More About