The Bureau of Alcohol, Tobacco, Firearms, and Explosives (ATF) is in the process of moving to a 100 percent cloud-enabled agency.
"It's a bit of a journey at the moment," Walter Bigelow, chief of the IT systems management division in the Office of Science and Technology at ATF, said at MeriTalk and NetApp's Cloud Connect on Nov. 8. "We will see some solid benefits out of making this move."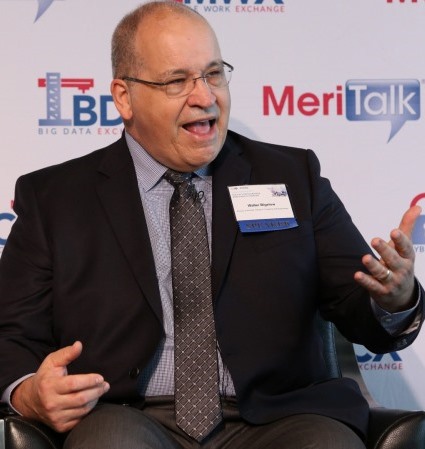 Bigelow said that ATF plans to shut down one of its major data centers in West Virginia in about 12 months. ATF uses both public and private cloud and plans to use as much open source information as possible. Bigelow said that the agency uses multiple cloud platforms because it wants to put the right application on the right platform.
"We've gone to a relatively unique hybrid model," Bigelow said.
He said that he still owns the data on the hardware that he controls.
Bigelow said that this move to the cloud was "100 percent embraced by the director on down."
"You can join us or you can be left behind," he said.
Bigelow said that the improved reliability of the cloud will affect the agency's mission. For example, in the event of gun violence, the agency could surge its cloud services to allow officials to have better access to gun data.
"It's just the right thing to do," Bigelow said. "You're using what you use and you're only paying for what you use."
Bigelow said that he wants more visibility tools once the agency is completely enabled by the cloud. Bigelow wants to know how much of the cloud is getting used, what systems to turn on and off, and how much the agency is spending on cloud services.
"Building that in up front is critical," said Bryna Dash, director of IBM's Federal Cloud.
Mark Bregman, CTO of NetApp, took a different approach, saying that agencies still need data centers to run certain applications in a cost-effective way. Bregman compared this to the dilemma over buying or leasing a car. In some instances, owning the car makes more fiscal sense.
"There's going to be a need for a combination of these things and we're going to have to understand that," Bregman said.
However, Bregman said that he believes that data centers should be optimized as new tools become available to make them more efficient and cost effective.
"I think we'll have data centers for all of our lifetime," Bregman said. "They will be different. They may not be as big or as central to the organization."
Read More About