Agencies have begun to focus more on how to leverage shared services after the release of the Cybersecurity Executive Order.
The executive order advocates for agencies to share platforms for common operations like human resources and finances.
David Bray, outgoing CIO of the Federal Communications Commission, said that he had been trying to make shared services a reality for a few years, but until the support from the White House, his requests were disregarded.
"The answer we got back is 'that's not sexy enough for Silicon Valley,' " Bray said at the Combined Cloud Computing Conversation on Sept. 26.
Federal technology leaders agree that they can't enable shared services with cooperation from industry partners and contract vehicles.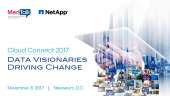 "Until we rethink the way we do business, learning to cooperate between industry and government is going to be very hard," said Richard Blake, deputy assistant commissioner of the Common Acquisition Platform (CAP) program office at the Office of Systems Management at the General Services Administration (GSA). "Industry has forgotten more than we know about the problems we suffer."
Bray said that the Trump administration should set up two to three achievable goals for agencies to work together to procure shared services and modernize legacy IT systems. One way to do this is for multiple agencies to buy the same contract, but talk to the vendor about setting up niche systems for each agency so that the contract can fit in with the agencies' missions. Bray said that someday he hopes to see one interoperable information sharing platform for all of the civilian agencies.
Bray said that although budgets are tight, the lack of funding can actually drive the change in business processes that are necessary to innovate in the Federal government.
"Innovation can be driven by resource-scarce environments," Bray said.
Blake said that the next issue that the Cloud Center of Excellence, an interagency group of technology leaders, will look into is budget issues and how to bring small agencies that don't have the funding to the cloud.
Tony Cossa, director of cloud strategy at the U.S. Department of Agriculture, said that he has used the funding shortage to find ways to reduce duplication and rationalize applications based on business functionality.
Jodi Cramer, senior air staff counsel for information law, administrative law directorate at the Office of the Judge Advocate General at the Department of Defense, said that DoD also struggles with budget issues when attempting to procure shared services.
"It's just hard because of the way we budget," Cramer said. "DoD's appropriations bill is 4 feet high."
Cramer said that it's hard to decipher which program has the money and how the agency is allowed to use it. DoD has been working on using shared services across the agency for two to three years.
"And that's for people who share a mission," Cramer said. "It's not as easy as it all sounds."
Read More About