Many members of Congress can agree that IT modernization is an important problem in need of a solution, but there is less agreement on how exactly to go about it.
In the past four months, two separate bills have been introduced in the House, which aim to improve and fund future IT modernization efforts: Rep. Steny Hoyer's, D-Md., IT Modernization Act and Rep. Will Hurd's, R-Texas, Modernizing Outdated and Vulnerable Equipment and Information Technology (MOVE IT) Act.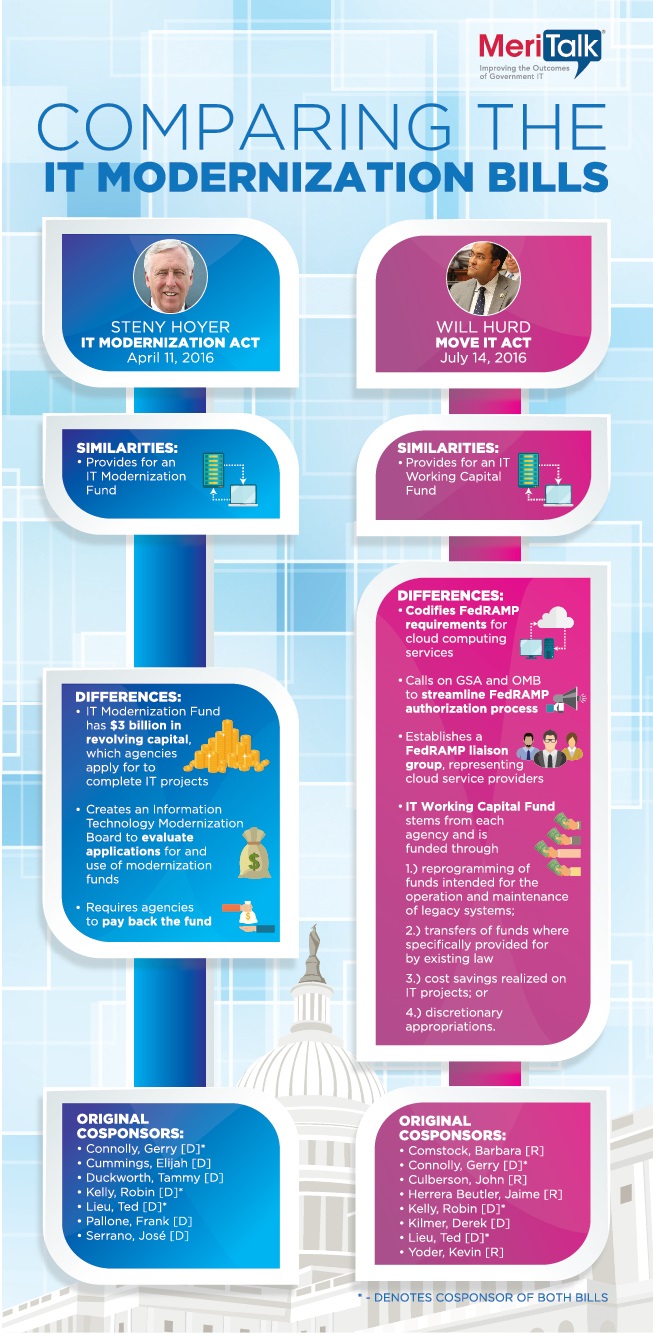 Though both bills focus on the same area of Federal IT needs, their differences do not necessarily mean that they are contradictory. In fact, they may even work best in tandem.
"The upshot is that the two bills are completely symbiotic," said Rich Beutel, principal at Cyrrus Analytics. He and Michael Hettinger, managing principal at Hettinger Strategy Group, worked on drafting the MOVE IT bill back in November 2015. The symbiotic nature of the bills is evidenced by the fact that some congressmen have cosponsored both bills, such as Rep. Gerry Connolly, D-Va.
"We see the two bills as very different but complementary," Connolly said. "In particular, the IT Modernization Act will make a significant upfront investment to retire vulnerable, large-scale legacy systems affecting multiple agencies. While most agencies will no doubt submit worthy applications seeking support from the fund, not all projects will be funded immediately. That's where the MOVE IT Act would fill a supplemental role by allowing agencies, on a much smaller scale, to reinvest savings generated through FITARA reforms to make investments in cloud transition. That supports the overall goal for all three pieces of legislation to modernize and strengthen Federal IT systems."
Experts say the MOVE IT bill stands a better chance of making it through Congress, due to both bipartisan and bicameral support.
"The reality is the Hoyer legislation […] has only one Republican among those cosponsors," said Alan Balutis, vice president and distinguished fellow at CISCO Systems, referring to Darrell Issa, R-Calif., who was a later sponsor of the bill.
"We've tried to put the emphasis on finding a way to get Congress to promote IT modernization," said Hettinger. "In order for that to happen, you've got to get agreement."
"I personally, and CISCO corporately, supported the IT modernization fund proposal," said Balutis. Though Hoyer's IT Modernization Act would provide an overall greater pool of money for private companies to get contracts from, it's also important to back the bill that has the higher chance of success.
"I really don't see any realistic prospect of that being enacted. It really is hard to make an argument when you're spending $80 to $100 billion on IT [already]," Balutis said. "The realist in me says that the MOVE IT Act has a greater viability at this point."
Beutel and Hettinger hope that this greater viability, and lack of party controversy, could get the MOVE IT Act passed as a suspension bill, in which the more time-consuming voting rules are suspended, before the end of this Congress.
"Suspension bills are completely non-controversial," Hettinger said. "If it's not passed in this Congress, it'll have to be reintroduced in the next Congress."
"There's some precedence to that," Balutis agreed.  "It's not a controversial bill."
Read More About