The Weekend Reader-Nov. 11
Industry Insider: What's Happening in IT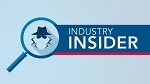 MeriTalk compiles a weekly roundup of contracts and other industry activity. Stay up to date on everything that's happening in the Federal Information Technology community. MeriTalk.com keeps you informed about the topics that mean the most to you and creates a targeted platform for cooperation, public-private dialogue, highlighting innovation, and sharing informed opinions. This week: News from Quantum Spatial, Bureau of Land Management, NOAA, Woolpert, and more.
Trump Administration Likely to Oust 18F
The incoming Trump administration plans to get rid of 18F, the digital services team located within the General Services Administration that has been criticized recently for its spending practices, according to a senior administration official. "People that have actual IT experience will be put into positions," said the official, who spoke to MeriTalk on condition of anonymity because of the sensitive nature of the transition discussions. Republican Donald Trump won the presidential election on Nov. 8, raising questions about what lies ahead for Federal IT.
Sensors Text Farmers When Cows Get Sick
Farmers should save their cows' numbers in their phones because cows can now send farmers a text message when they're feeling under the weather. The farmer maintains a base station that reads all of the data from each of the cows, adds the real-time data to the outdoor temperature and humidity, and then uploads it to the cloud. The system can also email a veterinarian to make an appointment for the farmer, to ensure the cow's illness can be prevented quickly.
IoT Called a 'Wonderful Thing' for People With Disabilities
The Internet of Things (IoT) is a great tool for those with disabilities, experts say, but government and industry can do more to ensure that IoT devices are accessible by all, through the implementation of universal design. "The Internet of Things offers opportunities to increase independence by reducing the need for personal assistance at home," said Daniel Castro, vice president at the Information Technology and Innovation Foundation, adding that smart pill bottles, sensors in the home, and advances in assistance robots would enable people with disabilities to live at home or alone while still ensuring quality care. "These technologies have potentially enormous benefits for people with disabilities, but these benefits are by no means guaranteed."
Council of Agency Web Directors Will Assemble a Month After Election
The General Services Administration will start a council of agency Web and digital directors by Dec. 8, according to a memorandum from Federal Chief Information Officer Tony Scott. The memorandum establishes a governance structure that will help agencies comply with Federal laws and policies regarding digital services and websites. Every agency must develop a plan for governing its digital services and post it on the Federal government's digital strategy webpage. This way, digital services will be available and an integral part of each government agency.