Customer Identity trends report shows control trumps convenience
By Steve Caimi, Director of Product Marketing, Public Sector, Okta
In an ever-evolving digital landscape, the public sector is faced with a difficult challenge: ensuring that public services are safe, secure, and easy to use. Meeting all of these demands is critical to providing users with the digital experiences they require.
To help your public sector organization better understand how to deliver safe and frictionless digital services, Okta surveyed more than 20,000 people worldwide in various industries about their digital experiences involving convenience, privacy, and security. The survey results are included in the Customer Identity Trends Report.
Survey results
The survey found that customer expectations have soared, resulting in a greater need for seamless and safe experiences from the public sector. From federal agencies to educational institutions, the public sector must deliver safe and easy-to-use experiences. Some highlights from the survey include:
Consumer expectations are higher: The digital era has raised the bar for user experiences. From federal, state, and local government agencies to healthcare and education, people now expect seamless and frictionless digital experiences akin to those offered in the private sector. The report revealed that 48-60% of respondents would be more likely to engage public sector services online if the experience was simple and secure with frictionless login.
Data privacy in the spotlight: The report revealed that 81% of public sector respondents consider it important to have control over their data, especially when dealing with sensitive or private personal information.
Balancing control and convenience: Not only do people want control over their data, but survey respondents also prioritized control of their personal information over convenience. When asked to choose between the two, respondents favored maintaining control. This is particularly relevant in the public sector because services, such as unemployment benefits or student loans, can be attractive targets for bad actors.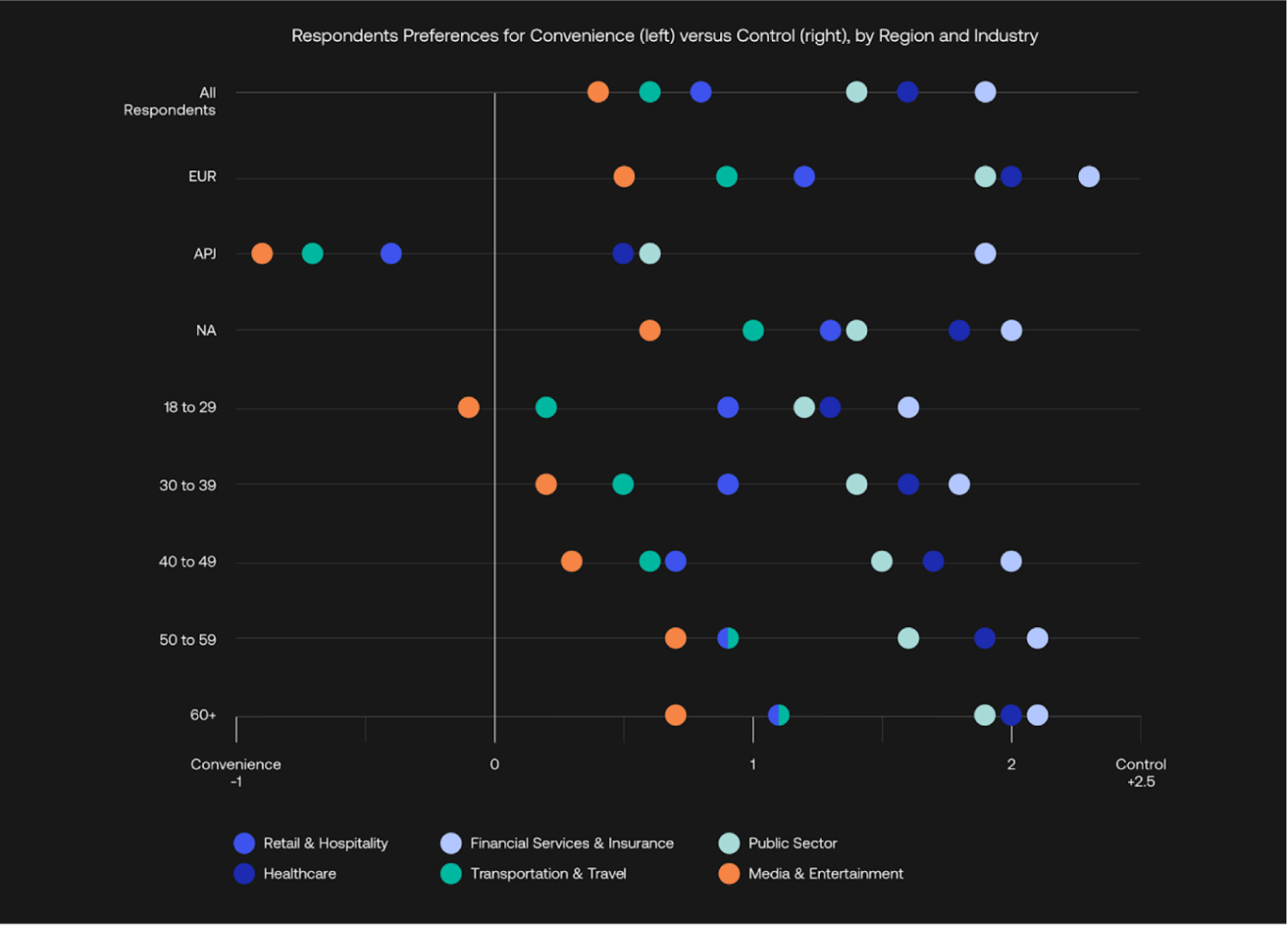 Security as a top priority: Public sector users tend to prefer dedicated login solutions that offer robust security measures. The report revealed that 80% of data breaches can be attributed to stolen credentials.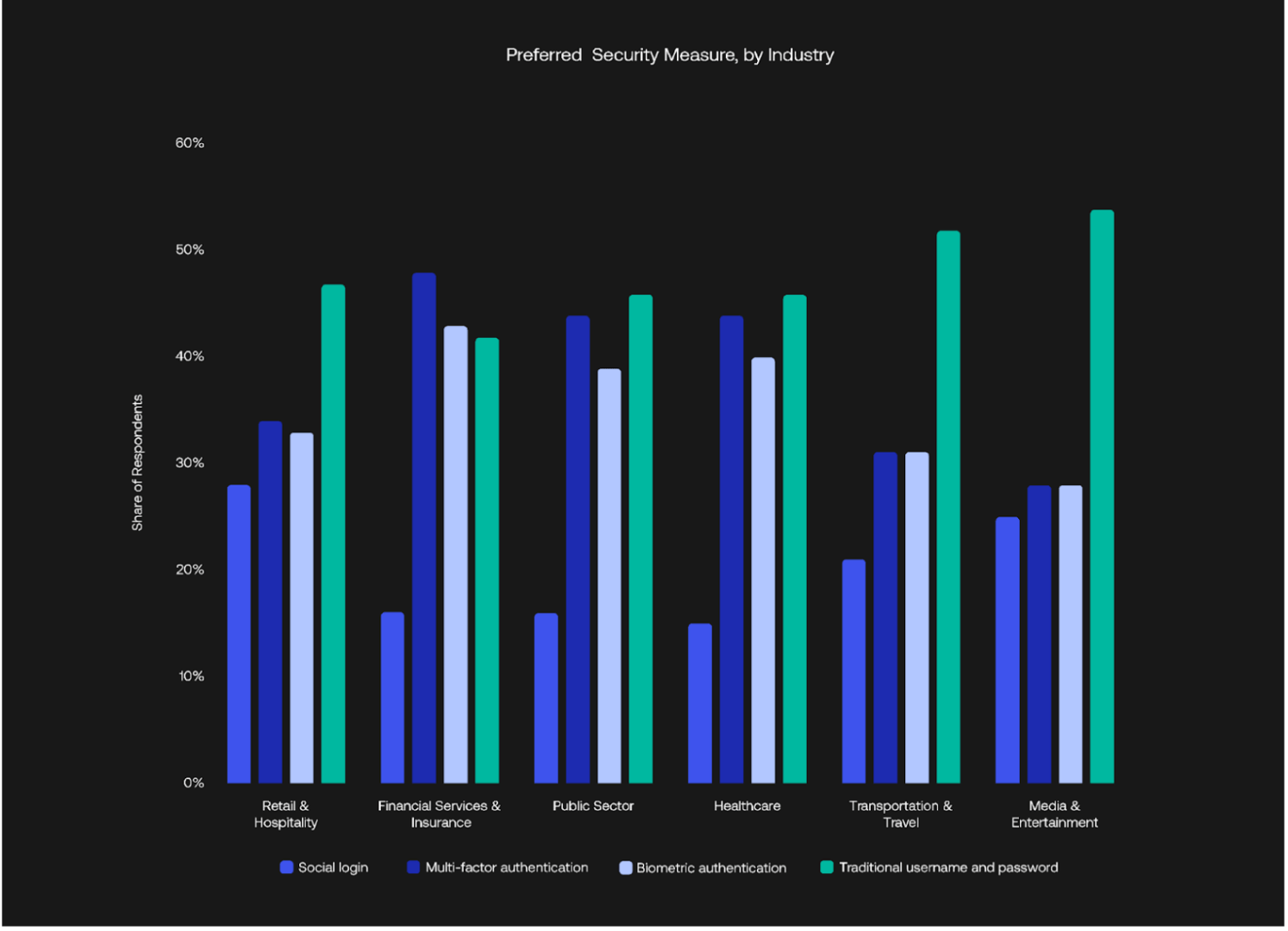 How Okta can help
Okta's Identity solutions enable the public sector to strike a delicate balance between control and convenience, helping ensure that individuals' privacy rights are protected while delivering smooth digital experiences. The public sector can maintain regulatory compliance, protect sensitive data, and safeguard user privacy by leveraging Okta's solutions and:
Effortlessly scale across multiple applications. The survey showed that 65% of people are overwhelmed by the number of usernames and passwords they need. By leveraging the robust features and scalability offered by Okta, organizations can expand their use of login.gov while ensuring security, performance, and reliability. Okta's seamless integration of the Identity as a Service (IDaaS) platform and login.gov can transform agencies' authentication processes.
Deliver a user experience that is both secure and seamless, upholding the highest standards of compliance. With Okta, your organization can maintain compliance with regulations and industry standards, ensuring the protection of sensitive data and the privacy of users. Plus, by prioritizing security and control, government agencies can gain the trust of those they serve while delivering services only to those that need and qualify for them.
Have the same robust Identity and Access Management (IAM) solution that works with Common Access Cards (CACs) and Personal Identity Verification (PIV) Cards for federal employees. The survey revealed that 63% of people are unable to log into an account at least once a month because they forgot their username or password. Okta's IAM solution is FedRAMP High and DoD IL-4-authorized, providing the necessary security and compliance measures required by government agencies and proof for all public sector organizations that security is critical.
Ultimately, the survey revealed that people value control of their data and expect different levels of security for different online interactions. With Okta's Identity solutions, your organization can strike a balance between data control and convenience, safeguarding user privacy while delivering seamless digital experiences. Let Okta power your organization's digital front door with our integration capabilities, including login.gov. Together, we can navigate the digital landscape, providing the public with the exceptional experiences they need and the security they deserve.
Learn more about how Identity powers modern digital services for the public sector.