Now that the Federal government's embrace of cloud technologies has taken firm hold across wide swaths of the enterprise, it's time to get ready to reap the rewards of that investment.
Join MeriTalk for our 2019 Cloud Computing Brainstorm on May 8 at the Newseum in Washington, D.C., for the latest expert-level insight from senior Federal officials and private-sector leaders on how government agencies are preparing to ride the cloud adoption wave to achieve modernization goals through next-level technology deployments.
Cloud and the next-gen technologies it enables are no longer an argument about chickens and eggs. Rather, there is broad agreement that widespread cloud service adoption by Federal agencies will create the necessary infrastructure for robotic process automation (RPA), artificial intelligence (AI), and a host of other autonomous technologies to flower in the coming years.
Here are just some of the Federal officials who will take the stage at "Modernization Tsunami: Ride the Cloud Wave" to map the coming advanced-tech explosion to the Federal government's most pressing needs: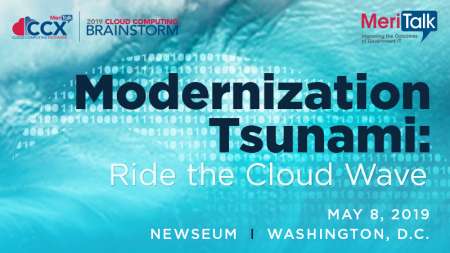 Anil Cheriyan, director of Technology Transformation Services at the General Services Administration;
Peter Ranks, deputy CIO for Information Enterprise at the Defense Department;
Max Everett, CIO at the Energy Department;
Andre Mendes, CIO at the International Trade Administration;
(Retired) Bobby Saxon, CTO at the Center for Consumer Information and Insurance Oversight at the Centers for Medicare and Medicaid Services; and
Mason McDaniel, CTO at the Bureau of Alcohol, Tobacco, Firearms and Explosives.
And from the private-sector side, you'll hear the latest on TIC (Trusted Internet Connections) 3.0 policy, and the inside track on the practical considerations that are driving cloud adoption including budget, security, and suitability issues.
The next-gen tech tsunami is rising over the cloud horizon, join MeriTalk for the latest on the forecast. Click here for more information and to register.
Read More About